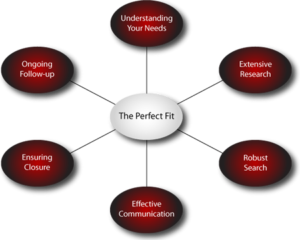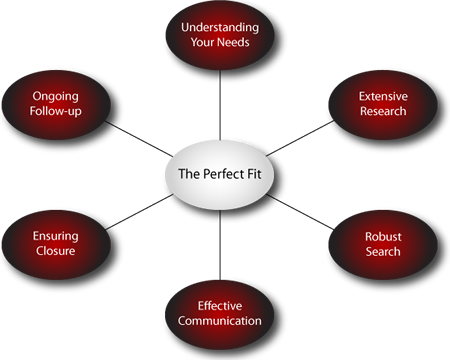 Our methodology has been proven to effectively and efficiently find our clients the perfect fit. The diagram to the right visually demonstrates how all of the steps that we use are ongoing throughout a successful search. We never stop researching, searching, communicating, understanding our client, and strategizing until we find our client that ever-sought after perfect fit.
Through this process, we guarantee:
A search process that is flexible and tailored to meet our client's needs

That we will limit the number of search assignments undertaken by each consultant

Outstanding reach and access to the best candidates

Penetrating research and inquisitive questions to gain insight into candidates and organizations

Professional representation of our clients

Timely, accurate and pertinent communication

A long-term partnership extending past the successful engagement
We go deep inside an organization to understand its unique culture and business model so that we can efficiently find, present and place just the right candidates.
Our broad experience and intense knowledge of the marketplace, both locally and nationally, plus an effectively managed search process results in targeted outcomes.
The unique combination of curiosity and emotional connection with our clients allows for the right connectivity of people and placement of candidates.
We understand business so we feel an urgency to fill our client's positions with candidates that have the right strengths appropriate for the growth of their organization.
Since 1982, we have used our personalized, tailored approach to help companies find the leaders they need.